Our Digital Health 101 series has covered the different types of digital health solutions, how they are used in different disease areas, factors affecting their adoption, and regulated versus non-regulated solutions. In our final article we look at the path to market for your digital health solution, and how to successfully navigate the hurdles along the way.
Developing and bringing a digital product to market is a fundamentally different process from bringing a drug to market. Pharma companies are used to launching a drug onto the market in its final form, after rigorous clinical trials. They are less familiar with launching a digital health solution as a live product that changes based on user feedback and real-world data and there are some key aspects to take into consideration.
Define your digital health solution's intended use and objectives
This is a key first step, and one which will impact all future actions. Defining and understanding a digital health solution's intended use helps set the right expectations and resources for its development and determine the path to regulatory approval. Setting the solutions objectives will determine the organization's development approach and the nature of the partnerships it might need to develop. Determine what your company can execute well. Perhaps the company has the expertise and resources to go it alone and develop, launch, and operate the solution themselves. Others may identify areas where they might be lacking the necessary expertise needed to bring a solution to market. In those cases, partnering with a specialist firm augments your existing capabilities and reduces burdens on internal teams.
Plan and resource for the whole product lifecycle
Successful digital health solutions require long-term vision and company commitment. Pharma companies can secure initial investment for digital health initiatives, but most struggle to retain the investment and support needed to get through multiple versions to a product that can scale globally.
One of the main differences of digital health solutions from traditional pharmaceuticals is their changeable nature. Digital health solutions should go through iterative updates straight after initial launch so that it achieves appropriate product-market fit, and also have the potential to improve as the solution software evolves based on the data it gathers over time. While a drug may not change in its lifetime, digital products could change monthly. This means developing digital health solutions on the short timelines often required is a tough challenge for an industry, like pharma, that is more used to decade-long R&D timelines.
Pharma companies can often underestimate the skills and resources required, not only to get to market, but also to keep the solution viable. Before a digital health solution is in use, pharma companies need to plan for and resource ongoing technical support, regular patches and updates, and the development of new, improved iterations of the product.
Organize your team for go-to-market success
Create a small, dedicated product team that will form the core of the digital health initiative, that works to an agile methodology. Sitting over this team should be the governance structures at executive level and cross functionally. Another, wider group comprising all the cross-disciplinary expertise from inside and beyond the organization covering clinical, IP, IT, patient, software, hardware, and so on, should be formed and brought in as appropriate. This should include medical affairs and medical legal review colleagues.
The challenge lies in securing support for these new ways of working from all parties. Often a change in culture will be required where these practices are not well established. The most successful digital health initiatives often have a digital champion driving them forward from within a pharma company; they're usually passionate about the benefits of digital health and have a senior position or senior influence. They can't do it all alone, but they tend to be essential for gaining wider engagement with digital health across a company.
Communication from the highest levels on the direction the company wants to take is crucial and should be clearly demonstrated in the level of resources applied to the development of digital health solutions.
Recognize the value of working with patients and HCPs
Too often, when tasked with creating a digital health solution, pharma focus on developing a product which addresses the needs of the business, rather than on the unmet needs of clinicians and patients. A digital health solution which does not support patients and/or HCPs will struggle to gain adoption. It is important therefore, to understand the daily realities of HCPs and how a digital health solution can fit seamlessly into their everyday work practices. For patients, a solution that meets their clinical and emotional needs, and fits easily into their day to day lives, will deliver immediate value, and sustain their adoption and long-term interest.
Developing ways of collecting all the requirements from end users and understanding the value of different aspects of the digital health solutions to them is therefore essential. The team should work closely with all relevant stakeholders to ensure the creation of a meaningful solution that meets unmet needs.
Bringing a digital health solution to market is a very different process from what pharma companies are familiar with. It is not an option to release a digital health product onto the market and leave it at that. To reach its full potential, a digital health solution should constantly evolve and improve, based on real-world data. Pharma companies need to commit the resources required to get beyond an MVP to get to a truly successful digital health solution that provides real value to all stakeholders.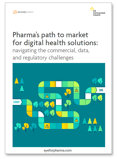 To read more about the path to market, download our whitepaper
on this topic here.
We'd like to hear from you.

Let us know what you would like to hear more from us about in future articles.