The growth of the digital health industry has led to a rise in the complexity of digital health tools and the range of tasks they
can fulfill.
As a result, life sciences companies can find choosing the right solution to develop
a daunting task, as they strive to find an effective solution that drives real impacts for patients, offering better, more personalized, and continuous care.

There are three key categories to describe the types of digital health solutions pharma companies use.

Digital health: The overarching term for digital technologies in the health and wellness space. They are sometimes regulated, depending on the product's intended use.

Digital medicine: A subset of digital health, used to describe tools that support the practice of medicine, including tools for measurement, treatment, recovery, prevention, and health promotion.

Digital therapeutics (DTx): A further subset of digital medicine. DTx are digital solutions that deliver medical interventions directly to patients using evidence-based, clinically evaluated software to treat, manage, and prevent a broad spectrum of diseases and disorders. Typically, DTx will require clinical evidence that shows the treatment is efficacious, as with a drug or other medical device.

In practice, we mainly see 'digital health' and 'DTx' used. These two terms, often mistakenly used interchangeably, have some key distinctions which separate them. In short, DTx are a subset of digital health that require more clinical evidence.
Regulated digital health solutions are often classified as 'software as a medical device', or SaMD, since they follow similar regulatory pathways to hardware medical devices. These are of most interest and value to pharma and life sciences. Although they come with a higher regulatory and evidence burden, SaMD and DTx solutions can secure reimbursement more easily in many countries. So, companies stand to gain the most from regulated digital health solutions.

These regulated solutions can be further broken down into the types of digital health products below.
Digital Companions for Therapy Management
Digital companions are solutions that include digital applications and portals that work alongside medication to improve patient engagement and adherence to treatment. They allow pharma companies to differentiate their products by providing better support throughout the patient journey, while data gathered can support access and reimbursement.

As the name suggests, digital companions work in conjunction with a pharmaceutical therapy. They can be integrated into – or complement – existing patient support programs, while many are standalone solutions that work independently. A key attribute of digital companions is that they use data to personalize support and engagement, providing a unique patient experience and capture real-world data on treatment.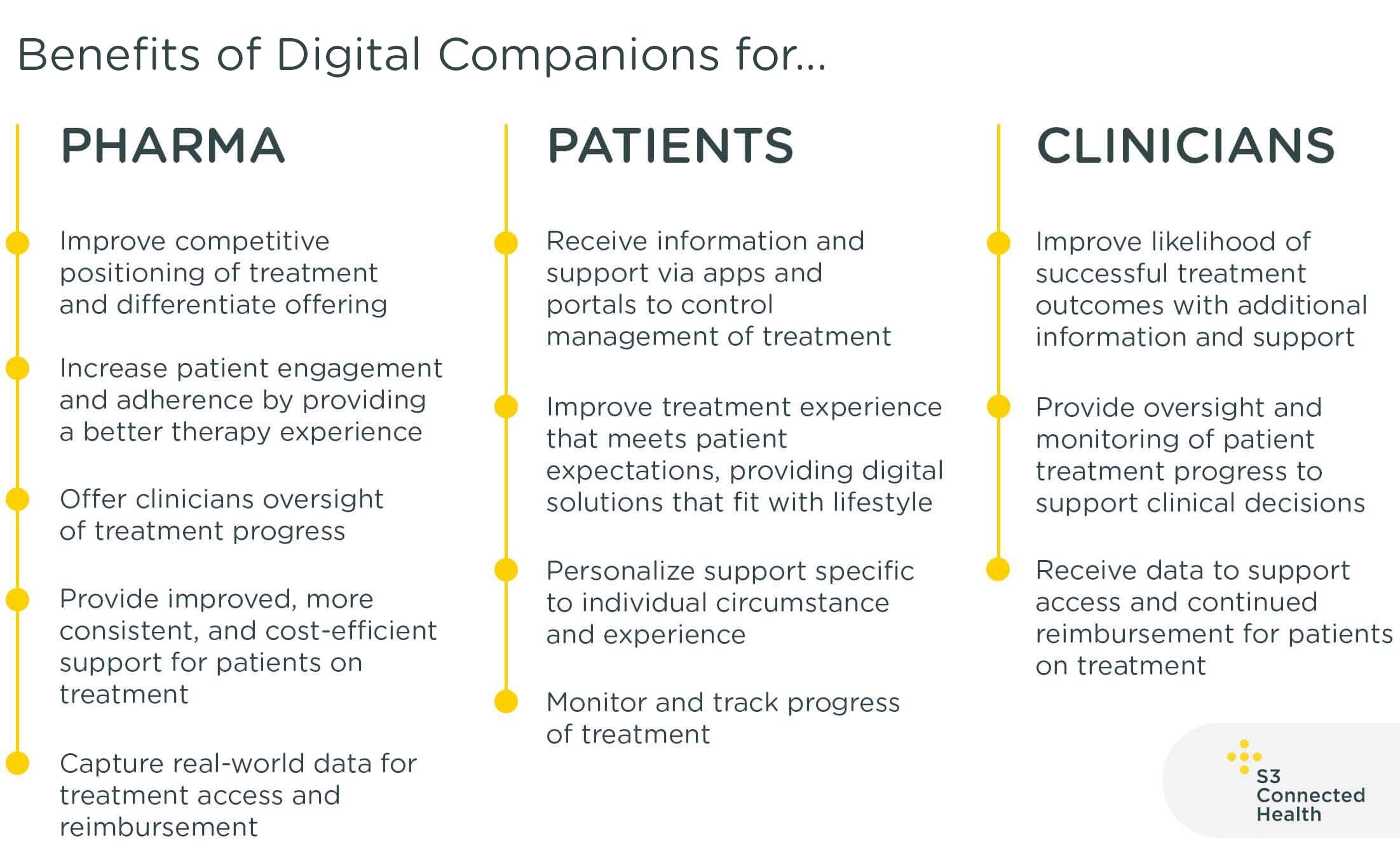 Digital Health Solutions for Chronic Disease Management
Digital health solutions provide support beyond treatment itself for people with chronic diseases. The digital applications and clinical portals that make up these solutions help patients address the full range of challenges they face managing their diseases and daily lives.
These solutions typically provide tools for the management of patient health, co-ordination of care, treatment, and lifestyle support. These tools integrate and connect all stakeholders in the management of patient and disease across the treatment journey and provide real-world data on longitudinal disease monitoring. Regulatory approval or classification is required in most cases.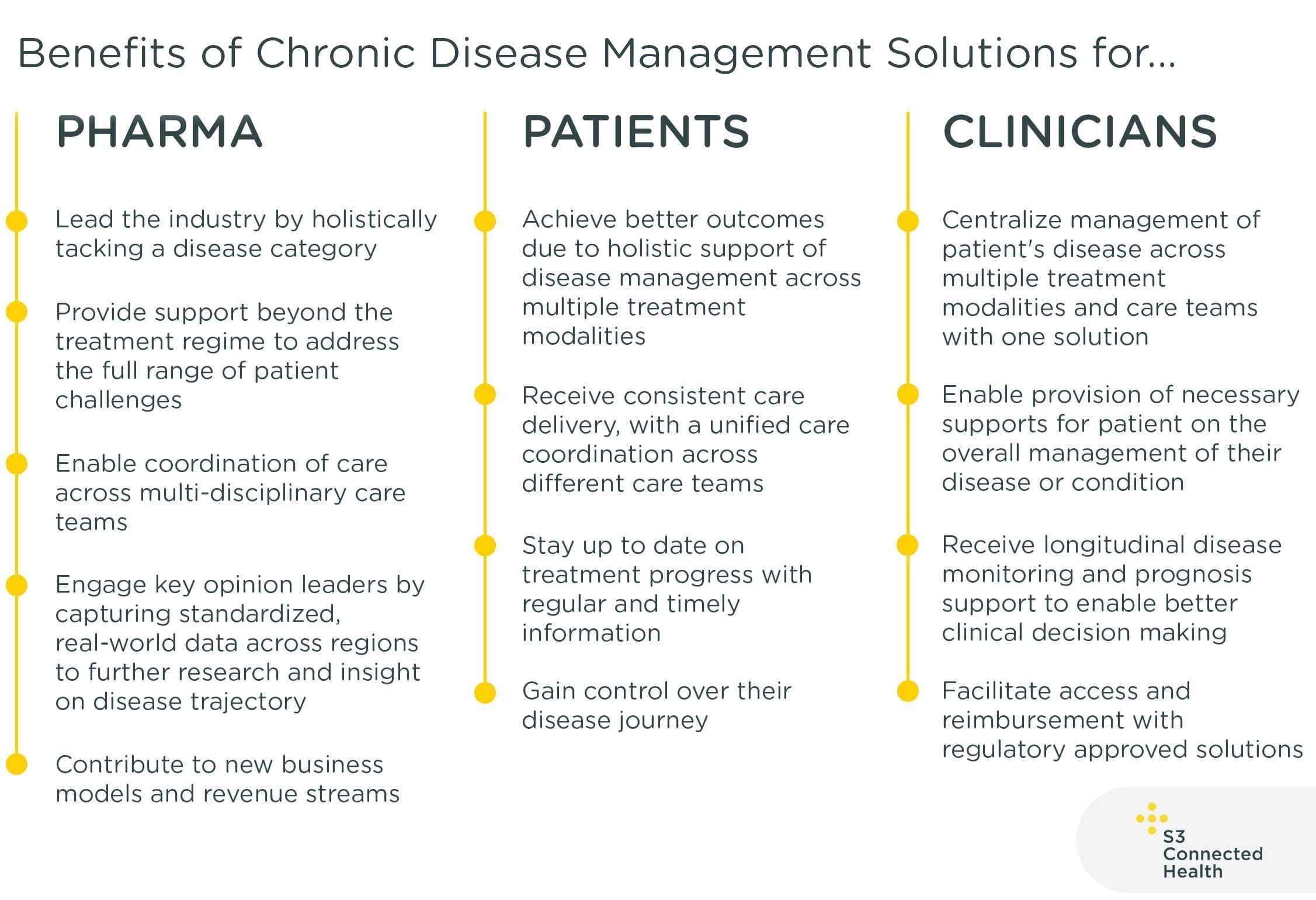 Digital Therapeutics (DTx)
Digital therapeutics (DTx) provide new software-driven therapeutic interventions for the treatment, management, or prevention of a disease or disorder.

DTx can be combined with a treatment, augment a treatment or act as a standalone treatment. They require clinical evidence to support product claims and regulatory approval or oversight on efficacy and safety claims. There are increased reimbursement pathways emerging for DTx in numerous regions.

DTx can be standalone software products in the form of apps, or combination products that include software products alongside pharmaceutical and/or medical device products.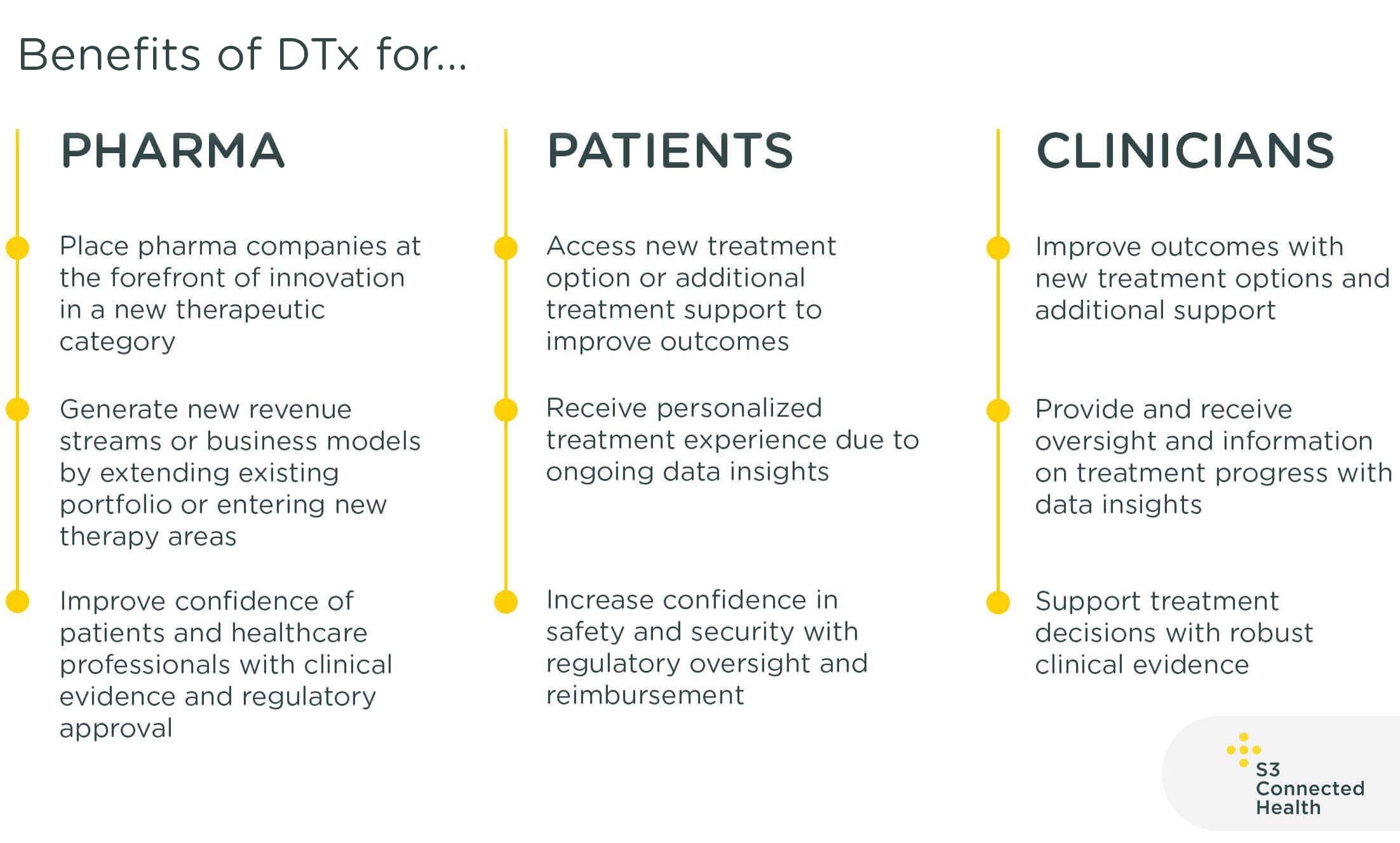 How to identify the type of solution a pharma company should develop
Begin by identifying the business objectives driving the need for a solution. These could come from anywhere across the business, from franchise and brand teams to R&D, medical affairs, innovation teams, or, increasingly, from a broader, purpose-built digital health function or department.

Business needs alone should not be the main driver however when it comes to deciding what type of solution to develop. You must also apply resources to understanding people's real-world needs and creating a solution to address them.

Taking this approach and creating a solution that is led by patient and brand needs will always yield more success than setting out with a goal like 'let's build a DTx'. While understanding the pros and cons of different types of solutions is important, don't get tied to a particular type of solution until patient and business needs are recognized. Keep an open mind until you have all the information needed to inform your solution definition and design.
Keep up to date with our latest blogs by subscribing to our newsletter below: