Pharma's approach to digital health is maturing fast. Companies are now investing more in digital health solutions designed to deliver value at a clinical, patient, and commercial level. The era of early tactical experimentation with pilot solutions, which often had limited scope for deep commercial and clinical impact, is well and truly over.
Pharma is now more strategic with digital health solutions; requiring them to play a significant role in building, supporting, or improving on the core pharmacological business.
In contrast to digital wellness or digital marketing efforts, digital health solutions are intended to have an impact on clinical and healthcare outcomes and, as such, are more complex and held to a more exacting regulatory, legal, and technical standards. Creating them and bringing them to market requires a clear understanding of the responsibilities, regulatory requirements, and the possible risks. While they require more investment, effort, and oversight, pharma stands to gain much more from digital health solutions.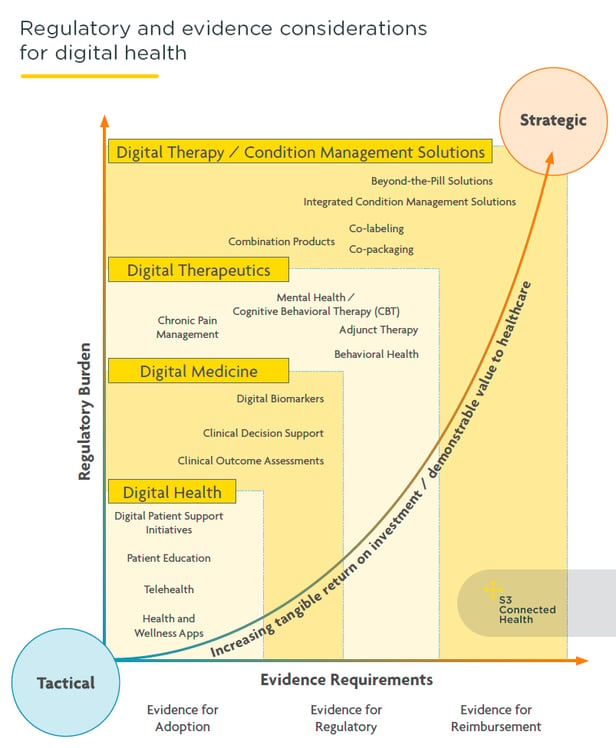 Data and digital health
Good quality, usable data is the lifeblood of any digital health solution. Analyzed data, collected via a digital health solution, can be used to support claims for clinical effectiveness and impact; it is vital for reimbursement, market access negotiations, and tracking adoption and adherence to both the solution itself and, often, associated medication.
Data must be managed carefully, securely, and in compliance with regulations that often vary from country to country. For solutions launched globally or across geographically diverse regions, this point cannot be underestimated.
Regulations and risks
A solid strategy for regulatory approval is one of the key foundations for the commercialization of a viable digital health solution and requires a multi-disciplinary team from inside and outside the organization working closely together. Success also depends on understanding responsibilities that aren't always immediately apparent to companies more used to bringing pharmaceuticals to market rather than digital products.
Not least among these is the deep knowledge required of the extensive regulatory requirements that come with developing software as a medical device (SaMD).
Part of the challenge of a digital health solution versus a traditional pharmaceutical is their changeable nature; they have the potential to improve as their software evolves based on the data that they gather. Regulators and payors are still getting to grips with this as they adapt a process that was not designed to account for the rapid pace at which technology now moves.
Organizing for commercial success
On top of new challenges are the age-old, internal organizational and cultural hurdles that will slow the path to success if not tackled.
In response to these challenges, many companies are building the digital capabilities that they have previously lacked internally, are making acquisitions to bring experienced teams on board, or are partnering with specialist digital health firms to plug key gaps.
This white paper offers insights from several pioneers in the field of digital health and explores the challenges that they have overcome, the knowledge they have gained, and the approaches they now take as a result.
With contributors from Admirall, Ferring, Novo Nordisk, Roche, and Pfizer, this whitepaper covers:
How to approach legal and regulatory responsibilities
Gathering and managing the right type of data
Gaining internal support and organizing teams for success
Partnership options and commercial strategies
Complexity, return, and value across different digital health solutions
Pharma's path to market for digital health solutions: navigating the commercial, data, and regulatory challenges


Download the full 27-page whitepaper now: