Healthcare is more patient-centric than ever with an increasingly digitized, connected, and consumer-like model emerging. The rise of value-based care, the shift from acute to chronic diseases, increased life expectancy, and the transition of treatments from hospital to home are all long-term drivers of more agile and personalized care.
The pandemic has recently accelerated the healthcare industry's response to these challenges. Some aspects of healthcare are already aligned with the new environment; video consultations and remote monitoring were relatively quick to implement, and their adoption has highlighted a growing acceptance of and desire for digital-first engagements.
Yet, medical device vendors could not and cannot react as quickly since many therapeutic functions are delivered by fixed electromechanical devices that require long and complex design cycles and tight quality assurance processes.
This has led to increased pressure on vendors to become more agile, connected, and patient-oriented. Companies that rise to this challenge will improve patient outcomes, support clinical decision-making, and integrate with hospital information systems.
There's no question that medical devices are and will continue to be a crucial part of patient care. Their core value will remain in the device itself for the foreseeable future, but the ecosystem in which the devices operate is evolving on an unprecedented scale and the device must evolve accordingly to remain competitive.
How do medical device companies stay relevant and competitive in this new environment, and how do they make their devices more adaptable to deliver value well into the future?
Our new whitepaper includes advice from experts at S3 Connected Health, Johnson & Johnson, Inspire Medical Systems, and Novo Nordisk including five key steps for expanding the role of medical devices in a digital world, and real-world case studies showing examples of each in practice.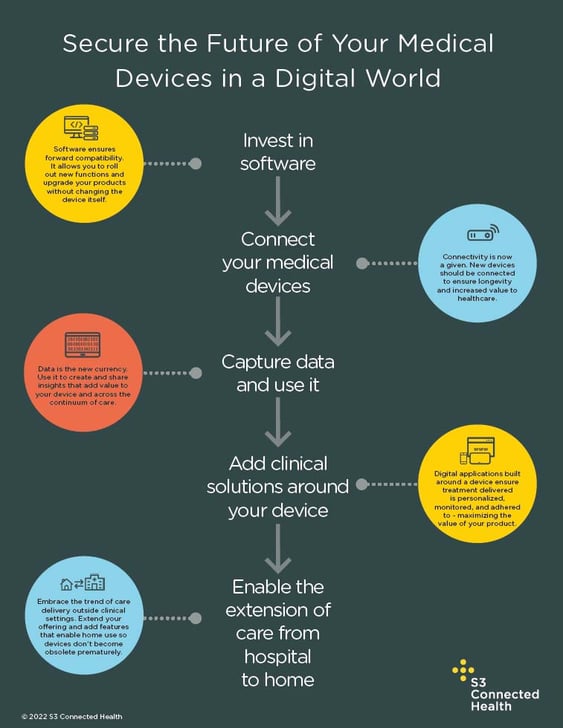 Following these five steps will align vendors' products with current healthcare trends and leave them flexible and adaptable enough to remain competitive well into the future while generating value across the entire device lifecycle.
Download the full whitepaper now and gain free, immediate access.