This article is based on our recent MDDI webinar in which Piotr Sokolowski, Chief MedTech Strategist, S3 Connected Health, and Chris Henderson, Global Senior Director of Digital Health & Value-Based Care, Smith + Nephew, discussed 'Creating a successful digital health strategy: setting an innovative path forward starting from the device'.
Medtech companies must enter the digital health space to ensure their devices stay relevant in this changing healthcare landscape, which demands an understanding of how patients and clinicians use a device in the real world to deliver more personalized care for patients. But, when considering their strategy for this, they often focus on far-reaching goals, long-term ambitions, or even futuristic predictions. However, the key to success lies in setting a clear path to achieve these ambitions, starting from their existing, next-generation, or novel new medical device.
The three categories of medtech digital health offerings
Medtech companies generally fall into three categories when it comes to their digital health offerings.
Device Vendors: Their focus is limited to maximizing the value of the device itself, periodically adding new features to improve usability, clinical performance, patient safety, and reliability, but there is an absence of a clear vision of how their product can fit into a broader healthcare ecosystem.
Digital Enablers: They deploy a strategy of being a digital enabler for stakeholders. They do this by collecting important medical device data, which is then fed back to relevant internal and external stakeholders. This data generates insights that are used to support teams working on device maintenance, support, training, and sales teams. They also make this data available to other stakeholders in the ecosystem – patients, healthcare providers, researchers, and payors to improve care.
Digital Players: They move beyond their devices (or services closely related to their devices) and build a comprehensive ecosystem of care

to maximize the value of both their medical devices and digital health offering

While the ultimate aim for medtech companies should be to become digital players, it is not always advisable to begin their digital health journey in the digital player's category. It is usually better to work through these categories as the device and business capabilities and competencies develop and mature.
The journey from a digital vendor to a digital player
So, what does a typical journey from digital vendor to digital player look like? It all starts with the device and continues to evolve over a number of steps.
Adding connectivity to your device

Once this is achieved, medtech can use the data generated to build insights that support implementing operational enhancements to the device. This typically begins with making improvements to the device itself, supporting internal teams working on and with the device, and then moving on to using the data and insights generated to support distributors and healthcare providers.

What comes next is moving into the more complex area of therapy improvement, using insights from the device data to improve patient outcomes on specific therapies.

Lastly, commit to transforming the overall offering, evolving into a holistic digital healthcare service provider, built out from the device, across the continuum of care.


Simplifying the complexities of digital health strategy
Achieving this evolution from a digital vendor to a digital player requires a clear strategy that addresses several areas that are key to success in this field. One of the inherent challenges with defining and implementing a digital health strategy is that it not only involves a change in the product offering but also a cultural change within the business.
Established medtech companies have historically strong business models, developed over many years, that have allowed them to grow, drive revenue, and develop deep and meaningful relationships with payors and providers. This gives them a strong base from which to expand into the digital health space but not necessarily the skillset or agility to experiment with new technologies, develop data strategies, establish go-to-market plans in new marketplaces, or define how their solution will fit into an overall ecosystem of care.
Defining a digital health strategy requires extensive collaboration and communication between both internal and external stakeholders to uncover real unmet needs of patients and clinicians, find a solution that meets those needs, define the strategic advantage to a company in meeting that need, and to implement the strategy. In addition, digital health is a complex subject requiring a broad range of competencies and capabilities across some key areas, as shown in the illustration below. This is why establishing a strategic partnership with a digital health specialist who can bring both experience and the complete skillset, along with a continuous focus on the program can add real value in navigating the internal and external challenges of entering the digital health space.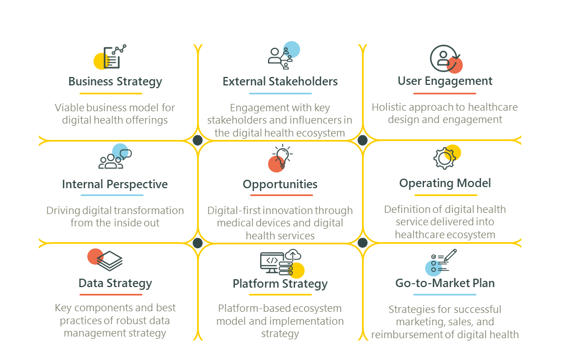 Turning strategy into action
Firstly, it is essential to educate internal stakeholders about the potential benefits of investing in digital technology to boost existing product sales. Furthermore, as more data is collected, a better understanding of how the digital health solution can complement the core device is gained.
Next, it is crucial to have a well-defined goal for the product, such as reducing complications post-surgery, improving patient compliance, or enhancing therapeutic outcomes. This will enable the exploration of new contracting models for the product.
Data is essential for digital health, but it is vital to have a strategic plan for leveraging that data to improve the experiences of patients, clinicians, and other stakeholders. Through collecting more data and the generation of insights, opportunities for recurring revenues can be identified. By utilizing remote patient monitoring codes, businesses can create new revenue streams associated with digital devices and services.
Patient and clinician engagement lies at the heart of a successful digital health ecosystem
It is important to anticipate future expectations regarding care delivery and patient experience, which will increasingly prioritize the idea of viewing patients as consumers. The future of how and where care is delivered will be very different from traditional care settings, and medtech must build devices that offer care to people in a way that fits into their daily lives.
Therefore, when it comes to patient engagement, the first thing to understand is the environmental context in which patients receive care and that their needs are not always directly related to the device but rather to managing their conditions as part of everyday life. So, by building a holistic behavioral model that includes these environmental factors, targeted interventions for these patients can be identified, considering the frequency and compatibility of treatment with their daily routines, and a care model can be built around these evolving needs.
Similarly, clinician engagement is critical and mustn't be overlooked. Digital devices and solutions can help them manage their patients more efficiently, engage with patients more meaningfully, and generate insights that can help them improve patient outcomes. But they will only engage with them if they fit seamlessly into their workflow.
These future expectations of care models from patients and clinicians demonstrate the importance of medtech companies moving beyond being device vendors to digital enablers and players, creating a connected ecosystem of care.
Download the webinar below to listen in full to Piotr and Chris' engaging discussion to learn more about expanding the value of medical devices in a digital world.
Additionally, our whitepaper 'Expanding the value of medical devices in a digital world: Connectivity to continuity of care' features insights from experts at S3 Connected Health, Johnson & Johnson, Inspire Medical Systems, and Novo Nordisk. They cover five important steps for leveraging medical devices in the digital era, including:
Investing in software to keep devices up to date
Adding connectivity to medical devices
Effectively capturing and utilizing data
Developing clinical solutions around medical devices
Preparing for care to extend from hospital to home
Download our whitepaper now to learn more.
Download our webinar with Piotr Sokolowski, Chief Medtech Strategist, S3 Connected Health, and Chris Henderson, Global Senior Director of Digital Health & Value-Based Care, Smith + Nephew