Connectivity is now a must when designing or redesigning in-hospital medical equipment. Data insights collected can bring many benefits for device vendors, healthcare providers, and patients; from improving healthcare outcomes to reducing the cost of care and device maintenance.
There are two key overarching trends driving the transformation towards more digital and connected healthcare, according to Piotr Sokolowski, Head of Strategy, Medtech Solutions at S3 Connected Health. "Firstly, clinicians want more than just devices: they want fully-fledged offerings with a comprehensive approach to treatment, integration with hospital electronic health records, and real-world evidence on therapy outcomes.
"Secondly, the shift to value-based care means care providers are paid based on outcomes, not number of procedures. Proving those outcomes requires device providers to secure a better view of a broader section of the patient journey; that, in turn, means more data must be captured and processed to track patients throughout their treatment pathway."
Medical device vendors have taken note of these broader shifts but, when it comes to adding connectivity, many start from – and focus on – what they understand best: the device itself and local connectivity. While this is an important aspect to consider, it's one of many.
To ensure a successful solution, it's vital to fully consider all steps for end-to-end connectivity of in-hospital equipment; failure to do so can result in connectivity projects failing early, facing lengthy delays, or never delivering meaningful business results.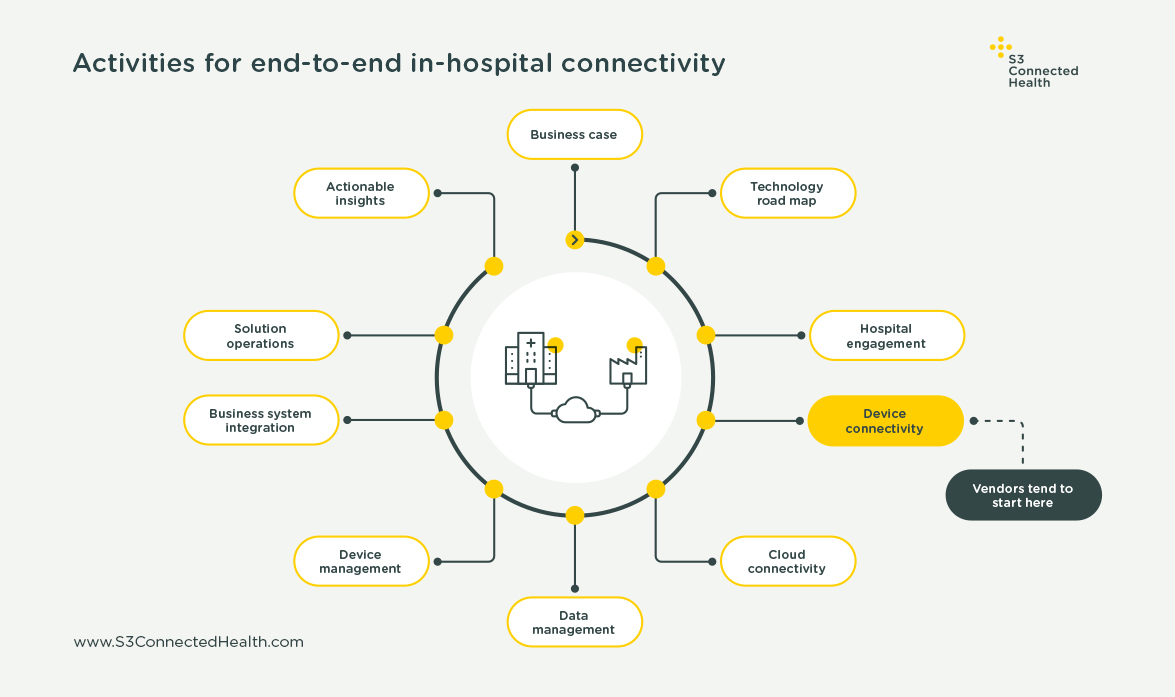 This paper details the key steps to consider when creating a secure, scalable connectivity ecosystem based around medical equipment in the hospital environment. It includes practical advice from industry veterans and experts from Boston Scientific, Mayo Clinic, and S3 Connected Health on:
Defining clear business goals to guide the successful use of data
Securing and incentivizing connectivity projects for internal and external stakeholders
Securely transmitting data from hospital settings to a device vendor's digital premises




How medical device companies can create end-to-end connectivity for in-hospital equipment


Download the full whitepaper: