There are a broad range of services, supports and initiatives that operate under the term Patient Engagement. While partly a result of efforts to expand the term to a broader range of services, it's also a result of the term itself, which is an umbrella term for a whole range of concepts in the health domain.
So what's included? What form of patient engagement is your priority?
There are 6 distinct terms under the Patient Health Engagement 'umbrella'. Here is a simplified overview (request the Exclusive whitepaper "Understanding Patients' Health Engagement" for the full version)
Patient Compliance: Doing what the clinician says: describes the extent to which a patient adapts their behavior towards the medical advice of the expert figure such as a doctor
Patient Adherence: Following treatment Recommendations: describes the patient's ability to follow treatment recommendations in a much more autonomous way, supported by the healthcare professional
Patient Involvement and Participation: Involved in decisions: describes the relationship between the patient and healthcare professional in the process of clinical decision-making
Self-Management: Managing one's own health: describes a patient's ability to fully manage the symptoms, treatments and consequences of their condition in their day-to-day life
Shared Decision Making : Active collaborator in decisions: includes patient involvement and participation, where patients seek, interpret and discuss information relating to their healthcare
Patient Activation: competently managing one's own health: indicates the level of knowledge, skills and confidence implicated in the patient managing their own health and interactions with the system of care
Patient Health engagement is a process at the end of which patients are co-producers of their own health, which enhances their satisfaction with the healthcare system, as well as increasing their personal responsibility.
Mapping the terms… how they are related
Even once the terms are fully understood, it can still be hard to understand how each term is interrelated and fits under the Patient Health Engagement 'umbrella'. The following map is useful as it helps to create the understanding of how each term interacts and helps to identify the priorities for initiatives to support a patient's overall engagement with their health.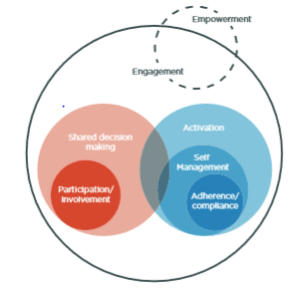 Patients' Health Engagement is rightly seen as a priority by all stakeholders in the delivery of care. But not all forms of patient engagement are the same, beneficial, or even equal. Understanding what type of patient engagement you are focusing on is key to creating effective programs.
Request the full whitepaper "Understanding Patients' Health Engagement", which includes:
Defining Patient Health Engagement – and understanding the 6 different concepts that are commonly confused
The 4 Levels of Patient Health Engagement – how patients move dynamically between each level
Meeting Patients' Shifting Expectations
Patient Stories – How to support patients' needs in relation to their level of engagement
Click here to download the first whitepaper of our Digital Behavioral Change Series "Using Digital Behavioral Change Interventions to Improve Therapy Adherence"