We have come a long way since World AIDS day was introduced in 1988, largely as a day of remembrance for the many people who were losing their lives to this incurable illness. Thanks to medication advances HIV/AIDS is now a manageable chronic condition via a combination of drug treatment and lifestyle self-management techniques. And effective prevention awareness campaigns have seen numbers contracting the disease fall.
Despite this, each year in the UK alone around 5,000 people are diagnosed with HIV, as many people still do not know the facts about how to protect themselves and others, and stigma and discrimination remain a reality for many people living with the condition.
As we approach this year's World Aids Day on December 1st, the United Nations program focusing on eliminating HIV UNAID have launched a 'know your status' campaign following concern that people are not getting diagnosed until they are at a symptomatic late stage. Its report launched this week revealed there are 9.4m people living with HIV who are undiagnosed, and a further 19.4m people who are not receiving treatment to control the disease and help them live well.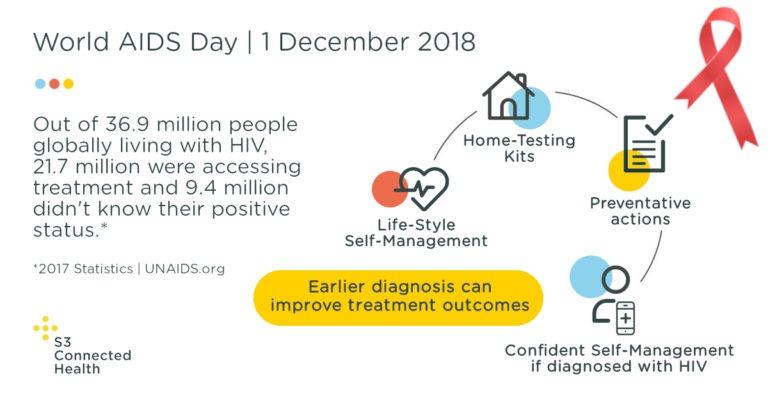 Stigma
A key barrier for many communities around the world is the stigma that remains when they are seen to be accessing HIV testing, and the fear that a HIV positive test result will impact negatively on their family relationships, work prospects and wider social status.
New initiatives are in place to help overcome these concerns, such as the introduction of home testing kits and including testing as part of wider general screening that already takes place for new mothers and infants, for example, which should help earlier diagnosis.
Confident self-management
Improving support for newly diagnosed people can also help to de-stigmatize being tested and help to boost earlier diagnosis efforts. In particular, recognizing the mental health impact of being diagnosed with HIV and providing tailored support to new patients is fundamental to improving engagement with diagnosis and subsequent successful treatment and better outcomes.
Our approach to designing tailored digital patient support programs globally for a variety of conditions has shown that an in-depth understanding of each stage of the patient journey and the different challenges they may face depending on their individual circumstances is a key element in improving healthcare outcomes.
Having a real understanding and focus on removing the behavioral barriers to people protecting themselves against HIV, and accessing and sticking with treatment, means everyone involved in the delivery of care is working on the supports and interventions that are best placed to achieve UNAID's goal of eliminating HIV.
Contact us to find out more about how to assess behavioral challenges patients face or visit www.worldaidsday.org for more about this year's World AIDS Day.