Connectivity is fast becoming an essential aspect of in-hospital medical equipment. Data insights bring benefits for device vendors, healthcare providers, and patients; from improving healthcare outcomes to reducing the cost of care and device maintenance. The past year has highlighted the benefits of remote connectivity, and how it can enable care to continue during unforeseen events.
Medical device vendors have taken note of this but, when adding connectivity, many start from and focus on what they understand best: the device itself and local connectivity. While this is important, it's vital to fully consider all steps for end-to-end connectivity of in-hospital equipment; failure to do so can result in connectivity projects failing early, facing lengthy delays, or never delivering meaningful business results.
In a recent webinar, Piotr Sokolowski – our Head of Services Strategy – spoke with Wim Croojimans, Program Manager Smart Connected Devices and Systems at Philips. They discussed the key steps for creating a secure, scalable connectivity ecosystem based around medical equipment in the hospital environment, including:
Defining a clear business case to guide the successful use of data

Engaging with healthcare providers to create a solution that will be adopted by clinical stakeholders

Integrating with business systems to ensure data is accessible and actionable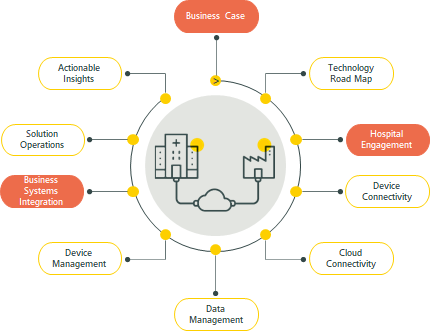 Download the webinar recording



Speakers:
Piotr Sokolowski,

Head of

Services Strategy

,


S3 Connecte

d Health

Piotr has over two decades' experience in the medical technology and telecoms space. With an engineering background, he has managed teams designing and delivering connected medical devices and services for leading medtech and pharma companies.

In his current role at S3 Connected Health, Piotr helps medtech companies take full advantage of the opportunities connected medical devices and digital health services bring. His focus is on turning point healthcare solutions (like medical devices or drugs) into connected care ecosystems that improve outcomes for all stakeholders from patients through providers to payers.
Wim Crooijmans, Program Manager Smart Connected Devices and Systems, Philips
Wim is responsible for building programs on smartness and connectivity across Philips that serve as a foundation for digital transformation. During his time at Philips, Wim has in innovation management roles for industries including healthcare, consumer electronics, semiconductors, and digital networks. He has participated in management teams responsible for businesses varying in size from small startups to mature and highly profitable enterprises.

Over the past 37 years, Wim has led business innovation in multi-site, multi-country R&D organizations covering several technology domains, including: IC's, hardware, software, systems, mechatronics, X-ray, medical instruments, IT integration, data analytics, AI, AR/VR , clinical solutions covering cardiology, oncology, and neuro.

Besides a successful career in R&D and business management in multiple businesses, Wim has expertise in business development, marketing, venturing, and M&A processes.