2021 has been a challenging year for pharma.
The pandemic has stretched industry capacity to its limits, while pharma companies themselves have struggled to engage and retain patients for routine research. A patent cliff – and the subsequent rise of generic pharmaceuticals – is driving competition through the roof. And elsewhere, rising consumer expectations mean pressure to innovate and deliver better care is greater than ever before.
Against this backdrop, digital therapeutics (DTx) offer real opportunities to pharma companies looking to provide care for patients and secure growth.
Not only do DTx solutions allow pharma to differentiate their offerings in a given therapeutic area, they also enable them to generate new revenue streams beyond just drug discovery and standalone tools.
DTx can also extend and revitalize established solutions by adding value as a companion to existing products; the new insights they provide also offer additional insights that can enable more effective care and treatments for patients in the future.
For pharma companies looking to move into the DTx space, there is, however, a range of considerations to bear in mind that will have a significant impact on how – and with whom – a solution is developed.
What should pharma companies consider when developing a DTx solution?
The principal questions pharma companies should ask themselves when looking to develop a DTx solution are as follows:
Firstly, do you require a unique DTx product, or can you license a similar solution in the market?
Are you looking to generate data vs. capture more revenue?
What level of control do you need over definition and evolution of the DTx? Do you need exclusive use of the solution? (Exclusivity will not be required if you're just extending and/or revitalizing an existing DTx with a companion.)
Can you act as a legal manufacturer of a DTx solution, and do you have the capabilities and processes to create, clinically validate, and register a DTx?
And finally, do you have the right marketing and commercial teams to market and sell digital solutions? If not, trusted partners can help you avoid common mistakes, leading to better results for clinicians and patients.
The three key DTx partnership models
Depending on the answers to the questions above, pharma companies are most likely to use one of the three following models to develop a DTx solution, each with its own benefits and drawbacks (summarized in the accompanying diagram):
Creating a DTx internally
This model involves pharma companies developing a solution in-house, handling all or almost all of the responsibilities, from risk, to operation, and maintenance.
The benefit is the internal model allows pharma to create bespoke products that fit their exact requirements and match up to long-term plans and objectives. Any product developed will also be exclusive to that business.
On the other hand, developing a DTx in-house requires a dedicated internal team to create, market, and sell it, and the barrier for this aspect is very high.
It's for this reason that internal development takes the longest of all the models, requiring pharma companies not only to create a DTx, but to build the underlying teams, infrastructure, and platforms to support it, which adds years to the process.
Even partial outsourcing will require pharma to build specific development and commercialization expertise to develop and launch a product. The capabilities required are different for a digital product like a DTx than a pharmaceutical, and so few pharma companies have this internally. While acquisitions are an option to secure the skills needed, they are expensive, take time, and have other complications.
Consequently, creating, launching, and operating a DTx entirely independently is not cheap, and will typically require multi-year investment plans. This will likely see pharma look to balance investment with long-term ROI, rather than focusing on quick wins.
Licensing an existing DTx
The second model available is to license an existing third-party product.
As this involves essentially reskinning an existing product on the market, it has the quickest time to market, and uses minimal resources internally.
It's worth noting, however, that while the initial skills and infrastructure required to license an existing product are reduced, when compared to other models, the capabilities and flexibility of the final product are severely limited.
Firstly, levels of exclusivity in this model will vary. An exclusive adaption of an existing product will give you a limited level of adaptation, with limited customization options compared with other models; this will, however, lead to greater expense and a longer development process.
Non-exclusive licensing arrangements, however, will give you few options for alterations. On the whole, the licensing model gives pharma little control over the product roadmap.
Finally, when licensing an existing solution, it's important to be aware that not every licensing partner will be able to support you in all the areas you need. Digital health solutions are part of a specific niche, and the existence of a sales team within your chosen partner organization doesn't preclude a potential capabilities gap when it comes to marketing and selling digital solutions specifically.
Partnering with a specialist digital health company
The third and final model is partnership with a specialist organization.
There are, strictly speaking, two models here: co-creation, which results in a DTx just as exclusive as those created entirely internally; and co-commercialization, which offers a middle way between the internal and licensing models, and, as such, may deliver better value for some.
Co-creation with a specialist partner will see pharma sharing responsibilities for launch, legal manufacture, and external investment. Given few companies want to be bound by multiple different systems and requirements when creating a new solution, turning to partners who offer the whole package can significantly reduce complexity.
In terms of time to market, partnering offers the best balance: it provides access to specialists with proven expertise that can tailor your product to requirements, give you access to an underlying platform that reduces time to market, and provides end-to-end support throughout the process, making each stage, from concept to launch, much more efficient.
Partnering with a specialist organization also avoids some of the capability gaps that may open up when simply licensing an existing product. Partners in the digital health space have in-depth expertise, including, more often than not, pre-built, experienced teams that feature clinicians, technologists, behavioral scientists, digital compliance specialists, regulatory experts, and operational teams, too.
Some partners are also willing and able to take legal responsibility for manufacturing a DTx solution, which is a huge benefit for pharma companies that may not fully understand the implications and responsibilities in this space.
Specialist organizations are also well-versed in the processes around gathering and managing patient data, operating and supporting data across multiple countries, and much more.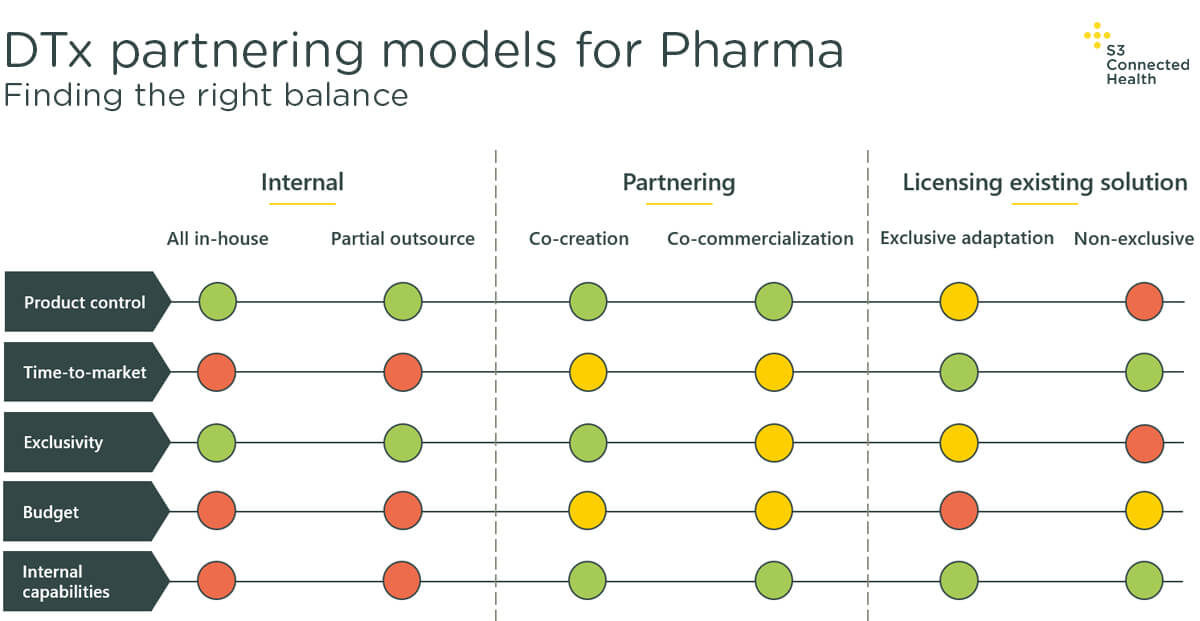 A partnership model is the best and most flexible option for pharma
In most cases, a partnership with a specialist digital health company is the best approach for pharma companies wanting to create a new DTx solution.
This model provides the best balance between competing constraints – as the diagram above shows – allowing pharma to take advantage of the existing investments, technology, and experience capabilities others have already made, while still affording room to create customized, bespoke solutions that best meet specific patient needs.
By working with a partner, you can also benefit from their learnings and avoid some of the most common pitfalls and mistakes faced by pharma companies creating a DTx from scratch.
At S3 Connected Health, we have a wealth of experience helping partners throughout the DTx creation process. For more information on how a partnership with us could help you, get in touch.
For more on DTx creation models and the the trade-offs for pharma on responsibilities, risk, and retaining commercial control, have a look at the recent presentation below from Matt Norton, our VP of marketing and commercial development: